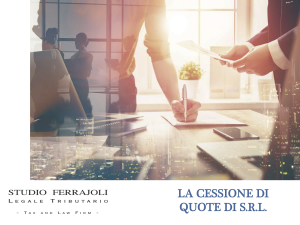 The Firm is dedicated with particular vocation to training activities in the areas of consolidated commitment, carried out both with the participation of its own professionals such as speakers at seminars and conferences – organized both directly and by specialized companies, professional associations, associations and organizations – as well as proposing products of e-learning that can be purchased by users directly from this site.
In-house training sessions are also offered at companies or other clients who request them by contacting us at info@studioferrajoli.it.
The Firm also carries out due-diligence services related to the correct application of the anti-money laundering, privacy and security legislation of IT infrastructures, at the subjects who in various capacities are called to the related obligations (Banks, professionals, CAF, etc.) and consultancy for software – houses that develop the related management programs.
Support services are also offered to customers such as those relating to assistance in the electronic procedure for the sale of company shares, as better described in the brochure below.