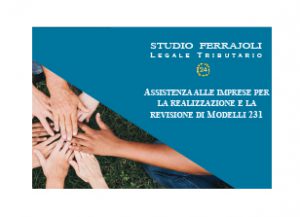 "Studio Ferrajoli" provides companies and organizations with a team of professionals who are expert in the preparation and revision of the Company Risk Management Systems with the drafting of adequate Organization, Management and Control Models pursuant to Legislative Decree 231/2001 corresponding to the core business and the organizational structure already present in the customer's Organization.
In particular, the Firm offers its assistance:
in carrying out the preparatory activities and related to the implementation of the 231 Organizational Model consisting of Risk & Gap Analysis, drafting of the Code of Ethics and revision of the Organigrams in order to guarantee the separation of responsibilities between the corporate functions;
in updating existing 231 Organizational Models, after reviewing them or specific areas related to criminal risks inherent in particular technicality;in the exercise of the functions of the Supervisory Bodies, designed to ensure the concrete and effective implementation of the Models, and in the definition of an adequate system of information flows to and from the Body itself, establishing the content and frequency of transmission;
in the audit on behalf of Supervisory Bodies aimed at verifying the fulfillment of the required protocols;
in the opinions related to compliance with the regulations belonging to the 231 area, with particular reference to:


provisions of Legislative Decree no. 81/2008 on Health and Safety in the Workplace;
issues relating to the protection of personal data and privacy pursuant to Legislative Decree no. 196/2003 in light of the new regulations introduced with the EU Reg. No. 679/2016;
precepts of the environmental regulations referred to in T.U. n. 152/2006;
rules on procurement and concessions pursuant to Legislative Decree no. 50/2016, with assistance for the application of the Anti-corruption regulations and for the management of the Company Rating;

in the review of company procedures belonging to Certification Systems and in the preparation of those missing for the complete implementation of 231 controls or for compliance with regulatory obligations;
in mandatory internal training on 231 matters aimed at ensuring knowledge and compliance with internal procedures;
in the judicial defense of legal persons for disputes of sanctions on the capital or disqualification of the exercise of the activity.
In addition, to ensure a concrete and effective implementation of Model 231, Studio Ferrajoli assists the company in choosing the best composition of the Supervisory Body, providing its own qualified and specialized personnel. Correspondingly, it takes care of the definition of an adequate system of information flows to and from the Supervisory Body, establishing the content and frequency of transmission.