Studio Ferrajoli assists companies operating in the equestrian sector by dedicating a specific service line to those who are dedicated to horse breeding, riding schools and farmhouses, as well as horse racing.
In particular, the Firm guarantees effective tax advice to companies and individuals operating in the sector, the management of sector contracts, the correct implementation of accounting requirements and technical assistance for access to national and EU funding.
In this context, the dedicated team of the Firm assists customers starting from the evaluation of their business and arriving at tracing effective strategies for positioning and growth in the reference markets, also through the enhancement and protection of the corporate brand or, more generally, of the specific know-how.
The civil and fiscal discipline that characterizes it requires, in fact, to the operators of this exciting reality the knowledge of the rules, unfortunately often difficult to interpret. In this regard, the Firm ensures univocal and coherent assistance, which originates from planning and reaches the defense of the taxpayer at every stage and degree of the tax-administrative dispute.
The annual fee is calibrated in relation to the size of the assisted company, so as to ensure a significant reduction compared to the ordinary rates related to the order of individual spot services instead of the more structured aforementioned packages.
Studio Ferrajoli, on the occasion of FIERACAVALLI VERONA, held its own consultancy desk for companies in the equestrian sector, flattered to have been the only professional studio present at the event, as a boutique specialized in legislation within.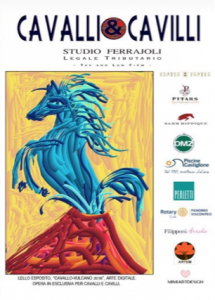 As part of the initiative called "CAVALLI & CAVILLI", animated by the creation of an instant-book dedicated to the civil and fiscal discipline of the equestrian sector, numerous technical workshops dedicated to the subject were organized, curated by the study team and held by speakers first-rate.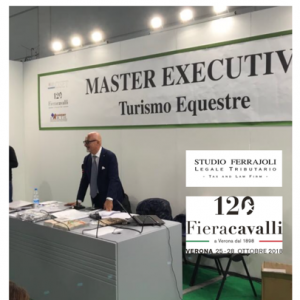 Attorney Luigi Ferrajoli also lectured within the Executive Master in EQUESTRIAN TOURISM, sponsored by the Veneto Region and developed in collaboration with the Cà Foscari University of Venice.